Marquis V77L Hot Tub:

Lounge
5 person hot tub
Therapy
The V77L five person hot tub is your family conversation zone. Plenty of seating positions to accommodate your group with room to move around. The full-body Commander's Lounge lets you stretch your legs. A total of 27 Jetpods with the V-O-L-T system delivers a professional massage. And three V3 Throttle Control valves put the action at your fingertips! (MicroSilk is available as an option on the V77L one-pump version. It is not available on the V77L two-pump version.)*

REQUEST MORE INFORMATION:

Owning a Marquis is easy. Come right now to our authorized store and we will show you how easy it is to get into the best hot tubs on the market today.

Standard features include:


Four Specialized Massage Seats
One standard massage seat
One cooldown seat/step
Interchangeable Jetpods with stainless steel trim
V-O-L-T™ system high-flow therapy
Three V3 Throttle Control valves
ConstantClean™ with SmartClean™
Product Specifications:


Size: 77" x 77" x 36"

Massage seats: 5

Jets: 27

Pumps: 1 or 2 pumps = 160 or 320 gpm

Electrical: 60Hz: 240V/30A/50A

Filtration: 1 filter

Water capacity: 270 gallons

Weight Dry/Full: 550/2805 lbs
US ENERGY INFORMATION:

Monthly cost of operation $14.82*
*Based on $.109 per kW hour, 70° F average temperature.
Electrical cost based on spa use of 30 minutes duration, three times per week; filtration time of two hours two times per day (24 hour period); one hour SmartClean setting. 240Volt, 30-50 amp. Ask your authorized dealer or local utility for the energy rate in your area. Your cost of operation will vary depending upon personal settings of the software, frequency of use and ambient temperatures.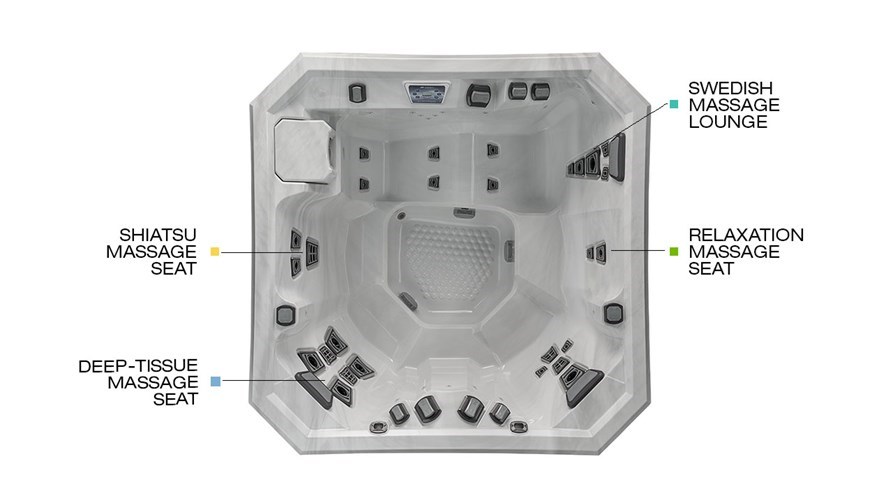 SPECIALIZED MASSAGE SEATS
Vector21 brings 21st century hydrotherapy design features like the V-O-L-T™ system, V3 Throttle Control valves and interchangeable Jetpods. Vector21 also offers Jetpods preconfigured in four Specialized Massage Seats.* What if you want to change configurations later? No problem! Swapping Jetpod inserts from one seat to another is a snap, or additional inserts can be purchased for endless possibilities.